Driver Experience Team
Call us DX for short. We're a team dedicated to creating a best-in-class experience for each and every owner-operator, whether that's turning your questions, concerns and ideas into action or providing driver-focused support, opportunity and community.
You Drive the Experience
Owner-operators know the road best. So, when you have a question or if an issue crops up, you want a real person to hear you out and make improvements. And when you have an idea for how a process or practice could be better for everyone, you want a team working with you to make your idea a reality. Our Driver Experience Team is your direct line for it all. We work closely with our owner-operators to make sure you have all the tools you need for success.
We're There for You
Our DX Team includes designated Driver Experience Champions in every terminal so you can always get in contact with someone. Every DX team member is exclusively dedicated to your success at every mile of your CPG® driving journey, creating a best-in-class experience on and off the road.
Expert Leadership
The Driver Experience Team is led by two expert industry professionals who understand what owner-operators want and need from a trucking company partnership. They'll work with you to make driving for CPG your best partnership experience.
Find Us on Facebook
See what driving for ContainerPort Group is like from our owner-operators themselves and stay in-the-know on all things trucking.
Meet Your DX Champion
Every terminal has a dedicated Driver Experience champion who ensures you have all you need for successful and enjoyable drives, every time. Our Driver Experience leaders are well-versed in serving driver needs, turning your suggestions and ideas into meaningful change, putting on driver-focused events and much more.
Driver Experience Leaders: Robbin Stevens, Director of Driver Experience | Sabrina Atkins, Driver Experience Manager
Driver Appreciation Week
Meet the faces of our drivers and see how our Driver Experience Team can serve you.
Contact DX
You're a phone call (or text) away from the DX Team. Get in contact with one of our members today and help pave new roads.
Our Blog
Learn more about our owner-operators and stay up-to-date on industry changes and opportunities.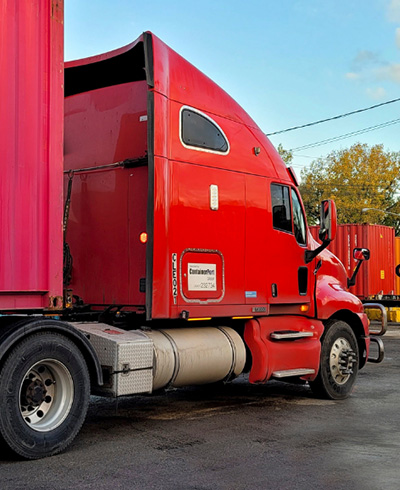 Driver Experience
Meet the DX Team
Meet the CPG® Driver Experience team. You can call us DX for short. We're a team dedicated to turning our drivers' questions, concerns and ideas into action.
Looking to Drive?
The search stops here. We make sure our owner-operators can enjoy every mile of the open road by offering competitive pay, flexible routes and ample time home. Ride with us and drive the difference.